ADVERTISING RATES
BANG has the lowest ad rates of any newspaper in town! We checked!

What are the benefits to advertising in BANG? Unlike news-focused papers, BANG isn't designed to get old in a week. BANG is distributed to public places all over the Portland area, such as cafes, bookstores and waiting rooms -- and many of these places choose to save back copies of BANG for future months.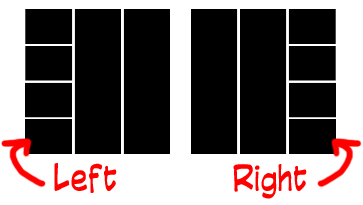 We are having a sale! For the next issue, ad prices are over 50% off! Pick your size!

$50 -- 1/4 column (normally $125)
$100 -- 1/2 column (normally $250)
$150 -- 3/4 column (normally $375)
$200 -- Entire column (normally $500)
WHAT ABOUT HALF-PAGE AND FULL-PAGE ADVERTISING?
For the sake of readability and tidiness, we would prefer not to break the standard layout very often, but if you simply MUST have a gigantic ad, we can accomodate you and shuffle something around -- if you're willing to pay a bit more for the extra acreage, that is.

Half-page ad: $300
Full-page ad: $400

IF I BUY TWO TIERS, CAN I HAVE ONE HALF APPEAR AT THE TOP AND THE OTHER HALF APPEAR AT THE BOTTOM?
Why not?

CAN THE ADS BE IN COLOR?
Certainly, at no extra charge, but we can currently only produce 8 pages of color per issue of BANG, counting the back page ad which is always in color. That leaves many more pages that'll be in black-and-white, so if you need a color ad, specify so because they'll go fast!
THE HIGHLY COVETED BACK PAGE AD, THE ONE THAT WILL BE SEEN THE MOST
....is worth $500. First come, first serve.


HAIR LOOPIES
Anyone can buy Hair Loopies. They are $10 a message, and they appear vertically down the page, between BANG's literature and ad columns. Text only. Hair Loopies are like classified ads, only much better, since people will actually see them.

Oh, and I named them Hair Loopies because I COULD.